OPA! The 43rd Annual Atlanta Greek Festival brings the flavor, music, and magic of Athens just miles from your doorstep this September.
Event Details
September 27th – 30th, 2018
Thursday through Sunday
Only Drive-Thru service is available on Thursday.
Location
Annunciation Greek Orthodox Cathedral
2500 Clairmont Road, NE
Atlanta, Georgia 30329
Your ticket will become your passport as you experience all the flavors, aromas, and traditions of Greece at the 4-day festival. Join the Atlanta Greek Community as they open their arms – and their kitchens – for these festival highlights:
Indoor and Outdoor Festival Area | Delicious Greek Foods & Pastries | Church Tours
Exciting Greek Dancing | Children's Entertainment Area | Fantastic Shopping
Music & Dance
With live music and energetic performances, you will find yourself singing and dancing along! Alpha Omega Sound, the band that has headlined the Greek Festival for the past 20 years, will play a variety of music from different regions of Greece, as well as songs from the popular artists of today. Their repertoire includes a vast selection of listening and dancing songs that have brought the festival a sound and feeling of its own.    
Food & Flavor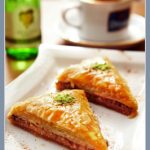 Food lovers across Atlanta will enjoy their fill of flavor and fun throughout the weekend! Learn to cook like the Greeks with live cooking demonstrations of Greece's most decadent dishes, or sample the spices and flavors of Greece with all the traditionally inspired food. A daily eating contest will be offered for attendees who think they have what it takes to eat the most Loukoumades. If you are in a hurry, you can still enjoy the incredible festival offerings at the Drive-Thru where the taste of Athens is available in minutes.
Fun for Kids
Children of all ages will enjoy the arts & crafts, face painting and other activities in the Children's Tent. The Annunciation Day School will be overseeing this area while also promoting the wonderful learning environment of the school.
Shopping, Exhibits, and More!
Other highlights will include exhibits to explore and learn about Greek culture – and, of course, shopping! Stop by one of the festival's many vendors where you'll find authentic Greek sailor hats, clothing, ceramics, copper, books, icons, jewelry, gold, Olympic souvenirs, and handcrafted items.
FESTIVAL DAYS &  HOURS
Thursday | Drive-Thru Only
Friday | 5:00 p.m. – 11:00 p.m.
Saturday | 11:00 a.m. – 11:00 p.m.
Sunday | 11:00 a.m. – 7:00 p.m.
DRIVE-THRU DAYS & HOURS
A Taste of Athens in Minutes: The Atlanta Greek Festival Drive-Thru
Thursday – Saturday | 11:00 a.m. – 8:00 p.m.
Sunday | 11:00 am – 6:00 pm
TICKETS & PACKAGES

General Admission | $5 per adult, each day
Children 12 & Under  | FREE
"It's All about the Food" Package | $40
Includes $50.00 worth of food tickets for the special price of $40.00!
Wine Tasting Package – 21+ Only | $50
Includes two admission tickets and two passes to our new Wine Tasting event. $60.00 value for only $50.00!
"Taste of Greece" Package | $40
Includes four admission tickets along with $40.00 of food tickets. $60.00 value for only $40.00!
Festival "Party" Pack | $20
Includes eight Admission Tickets, valued at $40.00.
More information on the 2018 Atlanta Greek Festival.
Learn more about Deactur & Druid Hills, and see homes for sale.