Bring Downtown Decatur to life this coming Memorial Day Weekend at the Decatur Arts Festival!
Event Details
Friday – Sunday | May 25th – 27th, 2018
Friday ArtWalk – 5:00 p.m.
Location
Downtown Decatur
The festival takes over downtown, extending from the Decatur Recreation Center to the downtown square, including East and West Ponce de Leon Avenue, Clairemont Avenue and the Dalton Gallery at Agnes Scott College.
The ArtWalk opens the festival on Friday evening with a variety of artful events to celebrate all through the weekend. We have you covered with all of the highlights!
FESTIVAL EVENTS
Neighbors and friends will enjoy the friends of Library Book Sale on Saturday along with: New Dance, Theater & Literary Arts, and Decatur LOL standup comedy all weekend long! Other festival favorites include:
ArtWalk
Friday | 5:00 p.m. – 10:00 p.m.
All Around Decatur
Free & Open to the Public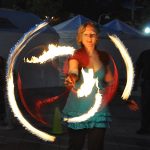 Kick off the Decatur Arts Festival with Decatur's largest one-night gallery event! The ArtWalk will celebrate everything local. Stroll through the neighborhood and stop by the various shops, galleries, and restaurants featuring works from a number of local artists. The evening will have a DJ and fire twirler for entertainment, and local breweries will offer beer available for purchase at East Court Square. Children can also join the fun during the ArtWalk at the Children's Book Illustration Gallery Show at Decatur Library.
Artists Market
The juried Artists' Market attracts over 150 artists from across the Southeast who join together to showcase individual pieces and collections. Fine art will be available for purchase, including: paintings, photography, jewelry, sculptures, clothing, ceramics, woodwork, hand-blown glass pieces, mixed media, metalwork, and more.
Entertainment
Festival entertainment will include live musical performances, improvisational and stand-up comedy, literary events, dance performances, silent auctions, and even a festival specially for kids!
Kids Arts Festival
Saturday | 10:00 a.m. – 2:00 p.m.
Decatur Recreation Center | 231 Sycamore St.
The Kids Arts Festival kicks off with a parade where kids are invited to display some artistic spirit! Dress up your kids and decorate your strollers, bikes, trikes, and join the fun! Following the parade, the kid-friendly fun where your little artists will enjoy arts and crafts, music, balloons, juggling, clowns, inflatables and much more.
Delicious Food
Decatur is known as a hub of Atlanta's best flavor and restaurants, and this year's festival is no exception! Food and beverage vendors will be grilling and brewing at East Court Square, and festival-goers will be able to take their pick from Decatur's many award-winning restaurants, pubs, cafés and fast food restaurants.
The rain-or-shine event is free to attend, and all ages are welcome!
More information on the 2018 Decatur Arts Festival.
Learn more about Decatur & Druid Hills, and see homes for sale.