Glenwood Estates in Decatur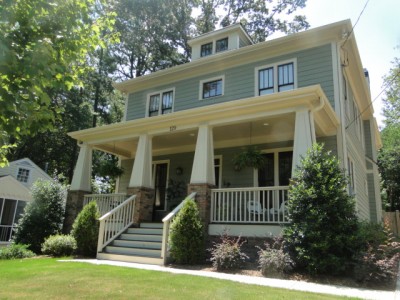 Glenwood Estates is a historical neighborhood with tree-line streets within walking distance to downtown Decatur and is located in the 30030 zip code of Decatur, Georgia.
The neighborhood has an interior entrance to Glenlake Park, which has a pool and lighted tennis. Just one of the things that make this neighborhood so special.
View homes for sale in Glenwood Estates.
Here are the top 10 reasons we love Glenwood Estate and the Decatur area.
Outstanding City Schools of Decatur – Glenwood residents are zoned for Glenwood Elementary School, Renfroe Middle School, and Decatur High School. The schools are part of the award winning City Schools of Decatur district.
Glenn Creek Nature Preserve – A two-acre tract of native Piedmont Habitat, Glenn Creek Nature Preserve is accessible from the Glenwood Estates neighborhood. Primarily maintained by local neighbors but owned by the City of Decatur, Glenn Creek Nature Preserve allows the public to learn about native species.
Glenlake Park & Pool – Glenwood Estates residents have easy access to Glenlake Park & Pool directly from the neighborhood. The 17-acre park has a swimming pool, dog park, picnic tables, playground, tennis center with five courts, baseball field, a walking path and basketball court. In 2008, Glenlake Park went through a $3.2 million worth of improvements. Glenlake Park & Pool is located at 1121 Church Street in Decatur.
Glenwood Estates History – Originally occupied by the Creek Indians, the land that is now Glenwood Estates changed hands a few times from 1821 to 1869. In 1869, a carpetbagger named J.T. Glenn bought the land, built his family home at 174 Sycamore and then developed the land. In he 1870s, Mr. Glenn began selling lots along Sycamore and Ponce de Leon. The land was passed onto Mr. Glenn's children in the early 1900s. In 1913, a small piece of the land was sold to the City of Decatur and was used to build the Glenwood School. The neighborhood of Glenwood Estates became established in 1927. Family of J.T. Glenn lived in the original house until the 1980s.
Top Walkable City – Although just a short distance from Midtown Atlanta, Decatur has the feel of a small town. City of Decatur has worked hard to create and maintain the feel of the small town by making Decatur a top walkable city. Decatur has great sidewalks and crosswalks and has easily accessible shopping and dining options. Decatur has received many awards due to its great walkability. These awards include Walk Friendly Communities 2011 Silver Award; Georgia's "Most Walkable City" by walkscore.com; Women's Health Magazine voted Decatur as "Top 10 Walk-Friendly Communities".
Decatur Square – A top spot for Decatur residents and just a short bicycle ride form Glenwood Estates, Decatur Square is the heart and soul of Decatur. Whether it's a quiet dinner out, shopping at one of the many boutiques, or a night of live music, downtown Decatur Square has something for everyone. The historic square is also home to many of the Decatur annual events.
Annual Events – Decatur has fun events year round. Events include Decatur Green Fest, Decatur Arts Festival, Decatur Beach Party, Pied Piper Parade, Concert and Fireworks, Decatur Garden Tour, Great Decatur Beer Tasting Festival, Decatur Wine Tasting Festival and Decatur Holiday Candlelight Tour of Homes.
Emory University – Found just west of Glenwood Estates, Emory University is a top research university recognized for it's liberal arts college, professional schools and a top health care system. Not only does Emory offer excellent academics and health care, it also offers arts to the Atlanta and Decatur communities. Theater Emory, Visual Arts Gallery, Schwartz Center for Performing Arts and the Michael C. Carlos Museum offer various forms of art to the public.
Farmers Markets – There are a several farmers markets available in the Decatur area. The Decatur Farmers Market has tow locations. One is located at 498 N McDonough St location is opened Saturday from 9am-noon, year round. The second location at 163 Clairemont Ave is opened Wednesday year round from 4pm – 7pm (March – Oct) and 3pm – 6pm (Nov – Feb). The Dekalb Farmers Market is located at 3000 E Ponce De Leon Avenue, Decatur, Georgia 30033. It is an indoor, year round farmers market that has fresh produce at bargain prices, spices from around the world, unique cheeses and seafood in live tanks. The Emory Farmers Market is held every Tuesday from noon – 5pm year round except during summer and school breaks
Location – Glenwood Estates is centrally located in Decatur. Residents can walk to dining and shopping at the Decatur Square, take their dog to the nearby dog park in Glenlake Park or enjoy nature at the the Glenn Creek Nature Preserve. City streets and I-285 to the east make for easy routes to Midtown Atlanta, Downtown Atlanta and the Northeast suburbs. See a map of Glenwood Estates.