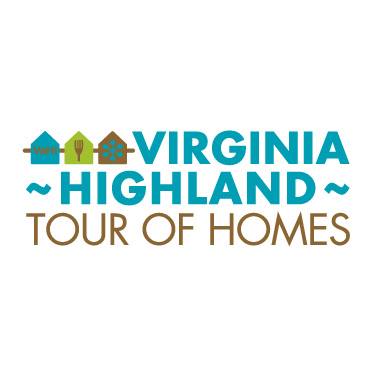 Tour, eat, and shop! It's time to celebrate the start of the holiday season with the 23rd Annual Virginia Highlands Tour of Homes!
When
December 2nd- 3rd, 2017
Saturday · 10:00 a.m. – 5:00 p.m.
Sunday · 11:00 a.m. – 4:00 p.m.
Check-in
John Howell Park
797 Virginia Avenue NE
Atlanta, GA 30306
Known as one of Atlanta's most charming and historic neighborhoods, the Virginia Highlands will be the perfect spot to enjoy gorgeous architecture and interior design while spreading some holiday cheer!
Tour Homes

Eight beautiful homes and a special History Tour will be featured throughout the festive 2-day event. Each home's unique style and design will showcase the neighborhood's character.
This year's line-up includes an 1920's English country style home decorated with original pieces of art, a recently renovated American Foursquare built in 1916, a unique 1925 Cape Dutch with beautiful indoor and outdoor spaces, a lovingly restored 1916 bungalow with a multitude of original features, and an historic building used as a combination art gallery and residence. The tour includes three other fabulous historic homes transformed for the modern world. -Vahitourofhomes.org

Food
From 12:00 p.m. – 4:00 p.m. on both days of the tour, local restaurants will provide food tastings at each of the Tour Homes. Delicious fare will be featured from Virginia Highlands returning favorites, including: Apres Diem, Atkins Park, Highland Tap, Fontaine's, Marlow's Tavern, Press & Grind, San Francisco Coffee and Tapa Tapa.
New to the the 2017 Tour, Cape Dutch, St. Germain Bakery, The Canteen, and The General Muir will also be serving up their tasty dishes!
Tickets
Advance | $25
Tour Weekend | $30
VHCA
Proceeds from the Virginia Highlands Tour of Homes will directly benefit VHCA, a non-profit organization whose mission is to improve the quality of life in the community through neighborhood park improvements, planning and preservation, and other community efforts.
New for 2017
The Virginia-Highland Tour of Homes has partnered with Creative Loafing to provide Tour Attendees with an all new guided tour audio experience! This free guided audio podcast will give you deeper insight into what makes each home unique, as you're moving through the home. The podcasts are sponsored by Engineered Solutions of Georgia.
Another trolley has been added this year, so the shuttles will run more frequently, and the hours of their operation have been extended on both Saturday and Sunday.
Between the neighborhood's unique variety of shops, eclectic restaurants, and historic architecture, guests are sure to delight in a weekend of shopping, eating, and soaking up the charming scenery!
More information on the 2017 Virginia Highlands Tour of Homes.