Becky goes above and beyond in all aspects of her work as an agent. She has helped us find our first home as well as later sell and buy our second home. She is very knowledgeable about both sides of the sale and is a great person to have at your side to help navigate you through all the complexity and decision making of the process. She is very quick to respond, flexible, and really listens to your needs. At the same time, she offers sound advice on home value and what the market conditions are. She takes care of her clients like family while also being a great business advocate!
—David & Jennifer Mason
This is the second home that Becky Morris has sold for us… both under contract in two days. She is a consummate professional, and always makes herself available at any time. She has a fantastic team of photographers, stagers and is always happy to recommend top notch contractors when any type of work needs to be done. There is no other agent I would use in Atlanta!
—Tonya Arnette
Becky Morris was such a pleasure to work with while purchasing our first home. She helped us navigate a very competitive market. Her vast network and market knowledge was instrumental in our success.
We were able to land a dream home in one of the most completive real estate markets in recent history. She was very positive and honest every step of the way. Becky was very proactive in finding us opportunities and extremely responsive with all our requests at every hour of the day.
Once under contract, she helped us navigate every step of the process. We were able to close on time with all needs met and within a tight time window. Our family now has a beautiful house to call home. We would recommend Becky to anyone looking for real estate in the Atlanta Market!
-Matt Burns
Our family relocated to Atlanta in January and we are SO lucky to have found Becky! We had another agent prior to working with Becky, and our experience was completely different.
Becky is extremely knowledgeable, honest and treats you like family. If you're looking for a home in this competitive market, or needing to close on a home quickly… you can trust that Becky is the realtor to work with. She has extensive experience, knowledge and relationships in the greater Atlanta area.
Thank you, Becky, for finding us our dream home and getting us moved in so quickly!!!
—Brianna Burns
We could not be happier with our experience working with Becky. Since the beginning she was very honest, flexible and always had time to respond all of our questions. She helped up sell our house and find our new home. She is very knowledgeable about both, selling and buying processes and takes care of every detail. I will recommend Becky to friends and will utilize her again in the future if needed.
—Geraldine Apointe & Jose Rivera-Vega
Becky is a very talented top notch realtor! We've partnered with her for 4 transactions (2 home sales and 2 home purchases) over the last 6 years. We've landed the home of our dreams twice now in a very competitive neighborhood in the Atlanta market.
She shined throughout the negotiation process to bring us a fair amount at closing, and tactfully navigated the sale of our other home during the Spring peak of Covid. We are a detail oriented couple and she was always willing to work with us, when we weren't always easy to work with.
We highly recommend Becky and will be sure to use her again.
—Cathy Chinich
Becky Morris did a wonderful job in finding our new home. She is very detailed, hardworking, and cuts no corners. We thank her most for her patience during our search. She is a very sweet person to deal with and I would always recommend her to anybody looking for a home.
—Priyanka Chatterjee
We would definitely recommend Becky Morris for anyone looking for a realtor in the Atalanta area! She was professional, efficient, and knowledgeable about the market. Her expertise continued with the wonderful pictures, virtual tour, descriptions, showings…for the listing. Becky thought of everything!
We enjoyed working with her for many reasons, but her level of communication stood out. We had a qualified offer that we accepted within 10 days, while other homes in our neighborhood remained on the market. Thank you so much Becky for all your hard work! Lori and Dave
—Lori and Dave
Becky represented us in selling our home in Brookhaven. From our initial meeting through closing, Becky was amazing. She was very knowledgeable about comps and pricing, gave excellent advice about staging, all of which resulted in 2 full price offers in the first 24 hours of listing our home for sale. We give her our highest recommendation and our gratitude.
—Tony & Kandy Gorse
Becky is the absolute professional real estate partner – she listened to us regarding our preferences in a new home and helped us find the PERFECT place. She gave us great advice throughout the whole process as well including access to her best resources for lending, inspections, closing and more. We highly recommend Becky and team!
—Leigh Nichols
I am reaching out to share the wonderful experience my wife and I have had working with Becky and her extended team. Becky is the consummate professional! Her client focus, knowledge of the market, relationships she brought to us in helping us with our journey as well as financing, due diligence and repairs made our buying experience wonderful on every front.
Becky anticipated our questions and concerns, providing prompt guidance and follow up and was invaluable to my wife and me. We now count Becky as one of our close friends and will be a client of hers in any real estate decision we make. Thank you, Becky!
—Rick Nichols
Great realtor! Becky is professional, attentive, and knowledgeable. She went above and beyond throughout the process. She offers sound advice and guidance, and is a pleasure to work with. Becky is highly recommended!
—Brett Williams
Becky's exceptional knowledge, personal demeanor and professionalism made house hunting a dream. New to the US and Atlanta, Becky's advice on location and properties was invaluable and she very quickly established our needs, and most importantly, our likes and dislikes to show us a number of properties that would have been ideal.
Becky surprised us with a 'mystery house', just listed and we fell in love with it immediately. Becky supported us throughout the entire closing process and thanks to her, we have just gotten the keys to our perfect home.
—Aaron & Fiona Shaw
We worked with Becky and she is an amazing person to work with… She understood what we really need and worked patiently with us. She is very prompt and kept us updated on every aspect. She gives her honest feedback each time and helped to pick the right one. She is professional, helpful, amiable, wonderful, genuine and no doubt will wow you.. Her super power is her hard work. She is the best in her business.
—Karol Stuart
I could not be happier with my experience working with Becky. She was knowledgeable. She was quick to respond to our questions. She knew the home buying process at such a high level we did not have to worry about it. At one point early on after we went under contract I called Becky with a question thinking there were steps on my end that I needed to complete. Becky had already taken care of it. It was fantastic. I will recommend Becky to friends and will utilize her again in the future if needed. We are so pleased . Thank You Becky for making this easy.
—Brian Olender & Katie McMillin
It was wonderful to work with Becky. We have moved a few times in Atlanta, and Becky always provides honest and helpful advice every step of the way. We have worked with Becky to both sell homes and purchase homes, and I cannot say enough good things about her. She has a unique ability to always remain calm, even when the other party does not.
She is very detail-oriented and takes good care of her clients through the whole process. We just moved in and are so happy we worked with her. Becky provides great service and I highly recommend working with her to sell or buy your home!
—John & Ashley DeLuca
We used Becky to both buy and sell a home. She was a wonderful realtor for both! In our buying process, she worked patiently with us to zero in on the home features that were most important to us, and her expert advice help us make a strategically written offer in a highly competitive market to secure the house we loved.
In selling, she arranged for magazine-perfect photographs and tailored marketing. When the market began to slow for our particular type of home and neighborhood, she had strategies to increase traffic and help us land an offer. When we buy a home again (which I expect will be a while!), she will be the first person we call! She's well-informed, strategic, responsive, and honest. You will love working with her!
—Catherine Rasberry Hendrix
Becky was very professional, yet very easy and casual to work with. She was always accessible and got our questions answered promptly. She always followed up on items and communicated with us constantly. Very experienced and a true professional!
—Mark Trowbridge
Our journey to buy and sell our home started in April 2018 with another agent/broker. After several months of dead ends, we took our home off the market in July. In October of 2018, on a friends referral, we got in touch with Becky. Throughout this process, Becky maintained a level of professionalism I have never encountered before. From the day we met her, she had photos taken, our house listed and under contract in under 10 days. Unfortunately, that buyer fell through due to personal reasons, however, Becky had our house under contract again soon after that with a deal we could not refuse.
Once the sale of our home was complete, we began our search to buy our new home. We had limited time to find a home so some days were long, emotional and frustrating. We even put an offer on a house she knew was not right for us and supported our decision through the lengthy negotiations. When we changed our minds at the last minute, she didn't get upset, judge or ridicule our decision. She immediately helped us right the train and move forward.
Throughout this whole 4 month process, Becky never wavered on the fact hat she was OUR agent and she represented US! She is one of the best in the business!!
—Molly Patel & Sals Desai
We had the pleasure of working with Becky when looking to buy a house in East Cobb. From start to finish she was courteous, kind, patient, knowledgeable and a very professional. Throughout the house hunting and buying process, Becky kept us informed of all necessary details, and she was extremely responsive to all of our inquiries. She was very flexible with scheduling viewings, kept us informed about the offers we made and even assisted with finding a survey company, home inspector, a painter etc. The closing process was seamless.
She simply went above and beyond. We would definitely work with Becky if we buy another property in this area. We highly recommend her!
—The Madanoglu Family
Becky is always such a pleasure to work with. Her responsiveness is great – it doesn't matter what time of day you call or text her, she's there to help. This time around we were extra thrilled when our house went under contract in 2 days over asking price. She ensured the whole process went smoothly with our home sale and our new purchase.
If you're looking for a realtor, look no further. Becky and her team are amazing!!!
—Matt & Candice Saba
I recommend Becky highly! From the minute you meet her you know she is kind, patient, experienced, well-connected and respected in the real estate world, and has your best interests front and center. Our house hunt took almost 6 months including a 2 month hiatus but we never felt rushed or pressured. Becky showed us homes before they were even about to hit the market and used her contacts to ensure we were seeing the latest available options.
She is very responsive and reliable—on top of every detail and that helped us stay coordinated too! Thanks to Becky, we found our dream home and couldn't be happier. We asked her to help us sell our previous home as well. You will love working with her!
—Ruchi & Anand Shah
We recently relocated to Atlanta for my husband's job and Becky Morris did an amazing job helping us find a house we love in a short amount of time (also over the holidays). She went above and beyond to help us coordinate every aspect of the purchase itself along with many parts of getting moved in that were certainly not something she had to do as part of her 'job'.
Becky definitely goes the extra mile for her clients and is incredibly knowledgeable about the Atlanta real estate market – would highly recommend working with her!
—Dan & Haley Bise
We recently purchased our first home with the help of Becky Morris and it was a wonderful experience. She was always available and quick to address any questions or requests we had. I couldn't imagine us have going through the buying process without her. She is a true professional and incredibly knowledgeable about all aspects of real estate.
Our experience working with Becky was a dream. After closing she even gave us a beautiful gift basket with gourmet ingredients (my wife and I love to cook)!
Becky is the best and she will be the first person I contact for any future real estate purchases.
—Dan Dawson
Becky helped us find a home for our growing family. She was recommended by another realtor that I worked with in another city and she did not disappoint! We've never had a house before (had always been in condos in metro areas), and Becky gave us a lot of advice on what to look for. She warned us about areas that may not be good for families when we showed interest in buying a house in a certain location, so it was clear to us that she genuinely cared about her clients and didn't just want to close deals. She was always friendly and punctual at all the showings. Would definitely work with her again in the future.
—Fanxi Lin
From the moment we met Becky we knew immediately that we had found an incredible realtor. Her insight, expertise and guidance throughout the entire home buying process was invaluable to us. She took the time to really listen to us up front and understand what we were looking for. She then quickly sorted through the myriad of options to keep us focused on the homes in our price range and where we wanted to live. It didn't take long to find the home we loved. She was with us ever step of the way—advocating for us, helping us strategize and chasing down all the fine details and questions relating to the purchase of our new home.
We highly recommend working with Becky to buy or sell a home. She is creative, knows how to negotiate, is well connected and is extremely passionate about what she does. If we could give her more that 5 Stars on this review we absolutely would!
—Ken & Wendy Kraft
Becky was incredibly gracious with her time in showing us homes. We were relocating from out of state, with little knowledge of the area. She was able to help us make sense of neighborhoods, schools and commute times to my new office.
She particularly came through during the contract negotiations and closing. Her attention to detail enabled her to catch some oversights in the contract that we would have otherwise missed.
Enjoyed working with her very much and would recommend her to anyone.
—Justin Kroop
Trevor and Jan moved to Atlanta and were looking for a home that was modern and close to their friends in Buckhead. We found the perfect fit, a Mid Century Modern home in the Margaret Mitchell neighborhood of Buckhead.
Here's what Trevor had to say, "We have moved multiple times in three different states and worked with a variety of realtors on both the buy and sell side and Becky is unquestionably the best realtor we have had the pleasure of working with"
—Trevor & Jan Rudderham
I've had the opportunity to work with Becky. Not only has she been insightful and thorough, she has really walked us through this process as first time home buyers! She has also been prompt and helpful at all of our meetings with the builder. She remembers things that I didn't even keep track of! I couldn't have imagined going through this process with anyone else!"
—Tarun and Kavita Subrahmanian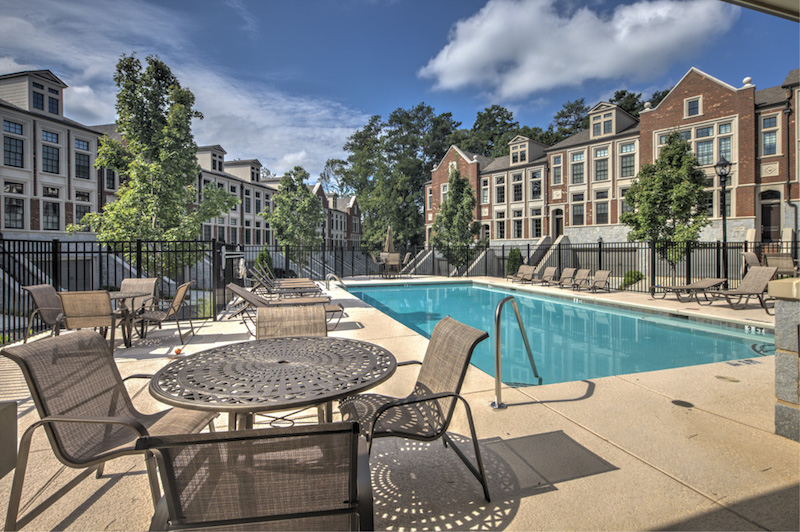 A delightful experience selling our town home in Brookhaven. Becky and her team are clearly real estate professionals and extremely knowledgeable regarding the Atlanta market. Becky and her team are well connected and she used her string relationships with several service providers to sell our home in a reasonable period of time very close to our asking price. They maintain a fantastic website with lots of information and resources. We recommend Becky and her team to support your real estate needs
—Howard Atkins
My husband and I highly recommend Becky Morris. She is a consummate professional with deep expertise, wonderful client service, and much fun too! She sold our house the first day it was available and over list price! She takes the time to get to know your style, preferences, and needs and provides excellent guidance and customized searches. She truly has her clients best interests at heart – through the search for a new home, the sale of our existing home, the financing, the negotiations, the services you may need as you sell and buy, and all the way through closing. She has the best marketing and website approach too – bar none. It was her website and neighborhood expertise that first brought us to Becky. Between my husband and myself, we have dealt with many realtors over the years and she is the best!
—Lee & Tracy Crump
Becky Morris was a delight from the moment she walked in the door–and on through to closing. (She even fed my cat during a long day of showings.) She is patient and responsive to questions, supportive in every way a seller would want, and careful to attend to every detail–and then some. I would recommend her to anyone thinking about selling his/her home.
—Diane
Becky is extremely knowledgeable and was unbelievably helpful during the entire buying process. She went out of her way to make it as easy and hassle free as possible. We've heard negative stories before about other buyers and the difficulty they had with all of the paperwork and time spent negotiating but that wasn't the case at all with Becky. Her professionalism and responsiveness actually saved us time and money. We are very thankful that Becky was our agent and would recommend her to anyone looking to buy a home.
—Nathan Ridgeway
I cannot imagine working with a better realtor than Becky Morris. I was a nervous wreck and Becky helped me calm my nerves, make sound decisions, and work with high quality and trustworthy contacts whether that be closing, brokerage, contractors or others. She knows Atlanta well and always selects great homes and great neighborhoods for viewing. She is very organized and efficient and can quickly move on any deal, which I desperately needed while trying to move the first week of a new school! We closed with all repairs completed in less than three weeks. (I still don't know how)
—Michelle White
This was our first time working with Becky and we could not have been more pleased. She was very responsive to any of our questions or requests to view properties on short notice. She is very knowledgeable of the area and has built a strong network within the industry that allows her to be ahead of listings and provide great recommendations. When we viewed properties, she would point out things (good or bad) about the property that really helped us weigh our decisions. We ended up choosing a FSBO that offered a reduced commission, but Becky still treated us as if we were her top client. Even at closing Becky found an issue in the paperwork that no one else caught and got us additional cash back. We will definitely use Becky again in the future and recommend her to our family and friends
—Christine Joy
Becky was great to work with – knowledgeable at every step of the way. She provided helpful guidance on the types of houses in our range for the area we were looking at and with that, it didn't take long to find one we loved. During contracting, while we were working with the builder, she provided us with tons of contractor and service recommendations to help us get our house ready before moving in. Contacts for a closet designer, window treatments, pool builder, fencing, inspector, etc. All of them have been very helpful and reasonably priced – a great network resource that saved us a lot of time and stress. We greatly appreciate all the support and partnership she provided and would recommend her to anyone
—Steven Barnard
Becky is a great person and a highly successful realtor. She is a fantastic resource in finding the right house as well as pleasantly managing the process until closing. We found the house and closed the deal in 6 weeks. Becky made the difference.
—Chris Tidwell
Becky has been a pleasure to work with for the second time. She is extremely helpful and responsive for any issues along the way. She did a fantastic job helping us find a home in Smyrna.
—Meredith Holland
Becky and Melissa were terrific to work with and made our home buying process simpler than we could have imagined. They consistently went above and beyond for us as we attempted (and finally did) find the perfect home from two states away. Their work shined even more once we were under contract – managing each step of the process for us complete with timelines, recommended vendors, pre-set appointments (etc.). Having worked with other realtors in the past that were relatively hands off after the contract was signed, this was quite the positive surprise. We wouldn't use anyone else.
—Noah & Brittany Becker
We can't say enough positive things about Becky and team! After working with Becky to purchase our first home, it was a no-brainer for us to reach back out when our growing family was in need of a home with additional space. We called Becky and Melissa not knowing what to expect about the process of coupling the sale of one home and the purchase of another. From the first meeting, Becky and Melissa laid out a clear plan of action and guided us on steps we should take to prepare to list our home. After listing our home at their suggested price point, the showings and offers quickly followed. We were under contract to sell our existing home and buy a new home within one week (!) of listing. We have no doubt that this would not have been possible without the tremendous knowledge, guidance and support of Becky and Melissa. We are in love with our new home, but if the need to move ever arises, you can guarantee that Becky and Melissa will be the first people we call!
—Robert & Melissa Hall
Becky Morris was an outstanding resource for us as both our selling agent and buying agent. Becky did a great job of marketing our house resulting in a final sale price above what we had expected to be able to sell it for. We listed our home during a very hectic time and Becky was always there to help and guide us long the way.
We spent about 6 months searching for our new home. Becky always gave us great advice about different areas of Atlanta and was always very patient and never rushed us. We ended up buying our dream home with Becky's help.
We would highly recommend using Becky as your real estate agent, whether you are buying or selling your home.
—Rob & Hayley
If you are searching for a house in the Atlanta market, you should stop searching for a real estate agent right now and call Becky.
Trying to list all of the great things about her would require a novel, but there were three things about her that were especially exceptional:
Knowledge – Becky gave us tons of advice on both the real estate market and the purchase process, which as first time home buyers we really valued
Communication skills – She quickly understood the must haves for each of us, which helped her identify houses we would like and to quickly move on if we did visit one that did not fit our tastes. She also has a fantastic website with tons of information that we referenced throughout our search.
Responsiveness – Becky was always quick to respond when we e-mailed or called her with questions (which we did a lot!). We were on a tight timeline to move out of our previous place and her quick actions help us get a house we absolutely love with a few weeks to spare
We love our house so much we won't be moving anytime soon, but the next time we need an agent we will be calling Becky.
—Joel & Lindsey
I would like to recommend Becky Morris for anyone looking for an extremely professional, knowledgeable, and courteous agent. She exceeded my expectations and made the Home Selling experience desirable and enjoyable. I can't say enough, 37 days on the market and 99% of listing price. She is and will be an asset to anyone looking to sell their home. Becky comes with my highest recommendation!
—Travis
Becky Morris did a fabulous job finding our house in a short period of time. She knows the area and provided us with information you can't simply google, that is the value of working with Becky. Becky showed us a beautiful home before it went on the market because of her relationship with the realtor. Becky is a consummate professional with superior customer service skills. I highly recommend her if you are purchasing a home.
—Keith Williams
Becky is absolutely amazing. She knew exactly which house would be the best fit. She hand held us through every step of the process. She was a calming voice during our our anxious moments. She is an expert resource with a wide ranging and reliable network to draw from. She is a true expert in the field and the ultimate professional. I would recommend her to everyone.
—Marcy Williams
My brother passed away in October and I live in DC. I was in desperate need of an honest and hardworking agent to help our family sell his home in Brookhaven. As a former broker myself, I am very skeptical of other agents. The other agents I interviewed were pushy or incredibly unorganized.
Becky and Melissa are not pushy. They are organized, punctual, and provided expert guidance every step of the way. They are both passionate, honest, and hardworking. They knew exactly how to stage the house to appeal to buyers and sell for top dollar. It was such an easy experience because of their dedication and expertise. Becky and Melissa surpassed my expectations.
Bottom line: They sold my brother's house in 72 hrs and $10k over list price. Becky and her team are the best!
—Justin Forlini
It was wonderful to work with Becky. We wanted to both sell our house and put in a contingency offer on our dream home, and we never imagined we would be able to pull off doing both of these simultaneously, but we did. Becky worked very hard to sell our home in a short time period so that we could secure our dream house. We just moved in and are so happy we worked with her. Becky provides great service and I highly recommend working with her to sell or buy your home!
—Ashley DeLuca
We were so pleased with all of the advice given to us in advance of listing our home and we believe it made a big difference in selling our home at full price very quickly and with minimal disruption. We would highly recommend Becky for any buyer or seller!!!
—Christine St.Clare
Over the last 10 years, Becky has been our Realtor for 5 transactions (3 as buyers and 2 as sellers). We can't say enough amazing things about her. She is patient, thorough, looks out for her clients best interest, and takes time to get to know them. One look her website you will see how knowledgeable she is about the different areas of metro Atlanta. We have referred her to others who love her as much as we do! She is definitely THE BEST REALTOR!
—Kate Whitmore
Becky is great. She is focused, pragmatic and efficient. As an out of town relo buyer, I was fortunate to find Becky. After lots of Internet searching, I found Becky's website the absolute best one to give you insights to the character and make up of different Atlanta neighborhoods. Prior to engaging Becky, she was willing to spend some time with me over the phone to describe some of the different neighborhoods and schools in areas of Atlanta. From there it was an easy decision to engage Becky in our search.
As we went through the search process, I never felt pressure to make decisions and was given even advice throughout the search. Also, Becky did double duty showing the same homes to my spouse on separate trips down to Atlanta. Becky has a collaborative team to back her up when she is unavailable to show a house as well. Her team covers various submarkets closely, so on a combined basis they carry comprehensive knowledge of the greater Atlanta area. After getting through the bid and acceptance process, Becky followed up with regular progress emails to make sure things were on target for home inspection, other inspections, mortgage follow through, etc. She made sure we did not miss any major milestones to get to the closing table. I highly recommend Becky for your home search or sale needs.
—Marcy Fink
We had the pleasure of working with Becky and Dixon for the sale of our house in Atlanta. We were overseas so it was additionally stressful for us. Becky was very considerate and helped us all the way. I would strongly recommend her team if you are looking for a real estate agent.
—Sabeen Tiwana
Our son had recommended Becky who had worked with him to find a new house. He was extremely complimentary of her guidance and expertise. Becky made suggestions and saw us through getting our house updated for the market. It was particularly helpful that she has a network of reliable contacts who were able to address many of our needs. We were pleased with the number of showings that were scheduled and felt that it was due to the quality of the pictures that Becky produced and posted.
In our effort to downsize we realized we didn't know much about the townhouse market. Becky worked with the guidelines we provided and showed us a number of properties. She helped us revise our expectations in line with the market. Importantly, this enabled us to determine the personal "value" in what we were seeing which led to our selection. Not having purchased or sold a house in thirty years, the process facing us had seemed rather daunting. Becky was the perfect person to help us and make it happen!
—John O'Connor
Becky was referred to us by close friends and she definitely lived up to their fantastic reviews. Even though she has many clients, she made us feel like we were her ONLY one. She has amazing knowledge of the Atlanta area and gives excellent advice on homes with tremendous resell value. I highly recommend Becky for her professionalism, diligence and pleasant personality. 5 stars
—Ashley Druca
Our experience with Becky and Melissa Morris could not have been better. They provided excellent advice and had great and reasonable recommendations for improvements and service providers. We were frequently out of town during the process and they always jumped in to he with meeting service providers in our absence. We would highly recommend them!
—Mel Coheley
I can't thank Becky enough for all of her help in securing our new home. Her attention to detail and professionalism are second to none. I would recommend Becky without hesitation. She is the BEST!
—Heidi Speckhart
Becky is fantastic.
She is uncompromisingly professional and absolutely takes her job and responsibilities seriously. We had been looking to move our family to East Cobb for several years and when the time was right for us we contacted Becky on the advice of several friends. She quickly helped us find the perfect house, did a wonderful job negotiating and made the entire process smooth from beginning to end.
We highly recommend Becky and will always be grateful for her help in getting us into our new home!
—Howard White
Becky Morris went above and beyond to represent us as a buyers agent. She took the time to show us different areas of Atlanta to pinpoint where we felt would be our best fit. We bought our home while living in a different state, which can be difficult. However, Becky kept us informed of new homes coming on the market and went over to the homes to view and take pictures for us. She is extremely personable and knows the city of Atlanta up and down. She even sent us recommendations for everything from hair salons to doctors to help with our transition. Becky has one of the most impressive realtor websites that I've ever seen.
We recently closed on our home and Becky created an electronic moving announcement for us to send to family & friends. I would highly recommend her to anyone looking to buy or sell their home!
—Josh & Kelly
Becky is an amazing Realtor! Seriously, she truly earned 5 stars in every category. She was very helpful and patient in helping us figure out which neighborhood we wanted to live in. She guided us through the process every step of the way. She was always there when we had questions and she helped us get a great deal on a home we absolutely love. She's the best!
—Josh & Allie
We have a home now!! I'm so excited. You've been an absolute pleasure to work with, from the promptness of your response to the determination you took in finding us the perfect home; it's all be phenomenal. You've always gone above and beyond. Kapil and I really did think that we were your only clients.
As we begin a new phase in our lives, we'll always remember the search for our perfect home and Becky Morris – #1 realtor in Atlanta.
Thank you for everything.
—Alpa & Kapil
My wife and I relocated to Atlanta from Hawaii with no knowledge of housing options in the Atlanta area. Becky had been handpicked by my new company to assist us in house hunting. In every respect, she was exceptional … personable, professional and knowledgeable. She adapted to our needs quickly and helped us find the perfect house. She is the best agent we've encountered … you'll find no finer.
—Bob & Donna
Becky was a pleasure to work with. One of the most important traits I look for when I'm working with someone is responsiveness and Becky was definitely great in that area. She always responded to calls and emails very quickly, was very accomodating in scheduling times to see different homes and was very knowledgeable and insightful about the different homes we saw, always pointing out the good and the bad. I'm very detail-oriented which can sometimes be a pain for people working with me, but Becky always made sure she provided me with everything I needed in order to make a decision. I would definitely recommend Becky to anyone in the market for a home.
—Ammar
Becky is by far the best real estate agent that I've ever worked with on finding a house! We searched every other weekend or so for a year in hopes of finding our dream home. After looking in many different areas, Becky found a neighborhood that is absolutely perfect for our family. I have to admit that we had many, many needs and that we are quite picky! Becky never gave up on the search to help us find a perfect home – and she found it. Her knowledge and expertise helped us to close the deal and get a great price too! We are forever grateful for her help and can't recommend her services enough!
—Mary & Tobias
It was a wonderful experience which may sound odd in what can be a very stressful time. Becky was professional yet personal. She also protected our interests and was always responsive.
—Jeryl Rosh
We have a very wonderful experience working with Becky. Professional, courteous, always smiling and extremely helpful with all decisions.
—Karl Rosh
Becky Morris was patient, thorough, and diligent in assisting us find our new home. She is a true "professional." Highly recommended.
—Richard Becker