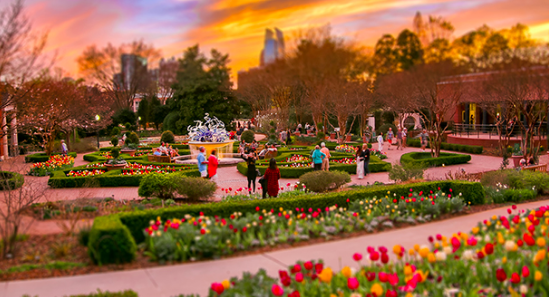 Spring has sprung at the Atlanta Botanical Garden, and members are invited to celebrate at the Member Spring Evening!
Event Details
Tuesday | March 12th, 2019
5:00 p.m. – 8:00 p.m.
Location
Atlanta Botanical Garden
1345 Piedmont Avenue
Atlanta, GA 30309
With flowers, marketplace shopping, live performances, and delicious bites, Atlanta Botanical Garden is jumping into Spring!
Explore the Orchid Daze exhibit and the blossoms of Atlanta Blooms!, shop the flower-themed artists market, and enjoy a complimentary blossom from Carither's Flowers at the pop-up flower mart in the Skyline Gardens. Kids are invited to join the fun with activities over in the Day Hall. Live music from Wren and Wravens will also steal the show! Hungry? Enjoy chef demonstrations in the outdoor kitchen, grab snacks at the Quick Café, or dinner at Longleaf. Food and beverages will also be available for purchase throughout the event.
More information on Atlanta'a Botanical Garden's Member Spring Evening.
Learn more about Midtown, and see homes for sale.
Learn more about Morningside & Ansley Park, and see homes for sale.