25 Fun & Festive Happenings Around Atlanta: December 7th – 10th
Tis the season to be jolly! Get ready for the peak of seasonal events  – and some majorly festive fun – by getting the most out of your weekend plans with our 25 Fun & Festive Happenings Around Atlanta This Weekend: Thursday – Sunday, December 7th – 10th, 2023.
Kick off the weekend on Thursday as Holiday on the Town celebrates all things holly and jolly at Town Brookhaven! The Anne Irwin Fine Art Gallery also kicks off the weekend with a new holiday group exhibit, followed by some immersive mix-and-mingling at a special Fernbank After Dark. The family fun will carry you into the weekend with art, flavor, and fun over at the Virginia Highlands Winterfest through Saturday!
As we continue thorough the weekend, Callanwolde's Winter House closes out the weekend with twinkling lights, laughter, and delectable treats. Be sure to get the kiddos and enjoy a family-friendly weekend shopping the Decatur Holiday Marketplace, lacing up those running shoes along the Atlanta BeltLine, exploring woodland wonders at Chattahoochee Nature Center, and even spotting a certain red-nosed reindeer.
The winter wonder continues all weekend (and season!) long with exciting installations at all your favorite stops from the Georgia Aquarium to Fernbank Museum, the Atlanta Botanical Garden, and Ponce City Market.
As always, we have you covered with the city's best Farmers Markets and eclectic flavors of Inman Park. Through all seasons, we will continue to have a spectacular lineup of fun each week – with events for couples, families, and running solo.
Our Top 24 Events This Weekend
Holiday on the Town
Thursday, December 7th
Holiday on the Town will be filled with a variety of family-friendly activities to entertain adults and children alike! Town Brookhaven will feature sleigh rides in Santa's magical sleigh, musical performances, holiday treats, and the lighting of Town Brookhaven's Christmas tree. Santa and Mrs. Claus will also make a special appearance, so be sure to bring your cameras!
Fernbank After Dark: Cocktails & Candy Canes
Friday, December 8th
Bring your holiday cheer for a night of festive fun featuring after-hour access to Fernbank's exhibits, the captivating lights of WildWoods: AGLOW, holiday-themed activities, music and more!
Callanwolde Winter House
Thursday – Sunday, December 7th – 10th
The 27,000 square-foot historic mansion will be filled with laughter, holiday magic, activities, and workshops for all! Cozy up next to a blazing fire in the Wine Bar and Beer Garden, and step outside to make s'mores by the outdoor fire pits as jazzy holiday tunes fill the air. Sip on mulled wine while playing classic board games in the library, build and decorate your very own gingerbread house, and be sure to explore the holiday artist market for that special gift this season! The Big Guy in Red will even make his appearance, so don't miss Santa's trip to the mansion for photo sessions with friends and family (even the four-legged members).
Decatur Holiday Marketplace
Friday – Saturday, December 8th – 9th
Clairemont Elementary will magically transform into a festive atmosphere complete with an inviting artists' market accompanied by delicious food. This year's event features 80+ vendors, live music, and food! Both returning and new artisans and makers will be selling their unique handmade items including: paintings, glass art, jewelry, pottery, gourmet food items, and much more.  So much more than your average craft market, the Decatur Holiday Marketplace is a truly special way to join together with the Decatur community and support the students of Clairemont Elementary School! Proceeds will directly benefit Clairemont Elementary School's educational programs.
Virginia Highlands Winterfest
Friday – Saturday, December 8th – 9th
Kicking off with a Tour of Lights, the family fun continues with a Jingle Jog, Holiday Parade, incredible holiday market, and live music! The Tour of Lights will guide guests through private gardens and beautifully adorned homes with beverages and treats along the way.
Menorah Lighting at Buckhead Village
Sunday, December 10th
Chanukah begins at Sundown on Thursday, and Buckhead Village commemorates the holiday with a special menorah lighting ceremony! Immerse yourself in the festive spirit with an evening filled with crafts, delectable latkes, irresistible donuts, hot drinks, and the uplifting melodies of Jewish holiday music. This event promises fun for the entire family as we come together to celebrate the Festival of Lights. 
Holiday Highlights at Anne Irwin Fine Art
Friday, December 8th – January 1st
Anne Irwin Fine Art proudly presents the 2023  holiday group show featuring works from Anne-Louise Ewen, Whitney Stoddard, Lindsey Porter, and Stewart McDonald!
Grant Park Candlelight Tour of Homes
Saturday – Sunday, December 9th – 10th
The 41st Annual Grant Park Candlelight Tour of Homes is back with a festive evening excursion through houses decorated for the holidays in Atlanta's historic neighborhood. Experience the Grant Park neighborhood in an intimate setting as you're enchanted by the warm glow of candles & holiday lights at every stop! 
Atlanta BeltLine Eastside 3K-10K
Saturday, December 9th
Come Run Along the Eastside of the Atlanta BeltLine! The finale to the  "Race the Loop" series welcomes runners of all abilities. Come Run Along the Eastside of the Atlanta BeltLine! The finale to the  "Race the Loop" series welcomes runners of all abilities.
Christmas with the ASO
Saturday – Sunday, December 9th – 10th
Beloved Music Director Robert Shaw started the holiday tradition many years ago, and families throughout Atlanta have cherished the performances ever since! This year, join Director of Choruses Norman Mackenzie as he leads the Atlanta Symphony Orchestra in an evening of timeless Christmas carols and hymns to help you celebrate the season.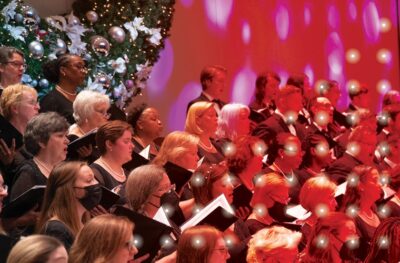 Home for the Holidays Designer Showhouse
Through Sunday, December 10th
Don't miss the last weekend! Home for the Holidays will showcase Atlanta's leading design industry talents while celebrating design and effortless elegance. Experience the newly constructed stucco home situated near Chastain Park, mix and mingle, and participate in a variety of workshops and events!
Avondale Estates Christmas Tour of Lights
Sunday, December 10th
The homes on this year's tour have been sensitively restored or renovated to preserve the character of Avondale's historic city, spanning nearly 90 years of architecture. One of our favorite parts about this tour is nearly everyone in town participates in the tour and market –  either by opening their homes, decorating the city, volunteering as hosts and hostesses, playing music, entertaining visitors on the trolleys, creating something for the market, sponsoring the tour in whatever way possible, or even by enjoying the tour itself!
Enchanted Woodland Wonders
Sunday, December 10th
Part of Chattahoochee Nature Center's series of Family Fun Days, this is the perfect chance to find some holiday cheer with the whole family. Pack a picnic, and plan for a full day of festive activities for all ages – Even meet a real reindeer!
Holiday Happenings at Atlanta Botanical Garden
All Season Long!It's the most magical time of year, and the Atlanta Botanical Garden is filled with holiday wonder all season long! In addition to the beloved Garden Lights, Holiday Nights spectacular display, there are plenty of ways to festive through the end of the year, all in one place! Come get your jolly on with the 2023 Holiday Happenings at Atlanta Botanical Garden – We have you covered with all the events and highlights.
Holidays in Decatur
Through December
Knock out your holiday shopping with special in-store events, discounts, and treats at local shops, restaurants, and services. Participating shops will also stay open late, offering a variety of festive fun! With twinkling lights, cheery music, festive window displays, and family-friendly events — Decatur is your family-friendly destination throughout the holiday season. 
Rudolph the Red-Nosed Reindeer
Through December
This holiday season, don't miss the magical tale of unlikely friendship and acceptance! Along the trip, audiences will experience Santa's Workshop, the North Pole, and the Island of Misfit Toys – all while enjoying live performances of all the festive songs of the season from the 1964 original. All-Inclusive Performance tickets include the show, admission to the Worlds of Puppetry Museum, and the Create-A-Puppet Workshop™ where visitors can create a Rudolph the Red-Nosed Reindeer Shadow Puppet.
Holidays at Georgia Aquarium
Through January 1st
The atrium will be filled with the sights and sounds of the holiday season, complete with holiday music and a live 40-foot tree! With some new surprises and old favorite (like pictures with Santa himself!), the Georgia Aquarium invites you and your family to take in all the magic of the holidays.
Winter Wonderland at Fernbank Museum
Through January 7th
Showcasing celebrations from around the globe, the seasonal exhibit fills Fernbank Museum with over two floors of twinkling, beautifully decorated trees throughout the holiday season! The variety of trees will be adorned with twinkling with lights, glimmer with color, and shine with a variety of cultural objects.  The displays throughout the museum recognize the diversity of celebrations, holidays, traditions, and events from around the world.
WildWoodsL AGLOW!
Through February 25th
Fernbank Museum's new outdoor, nighttime experience is unlike anything else in Atlanta, taking guests of all ages on a multi-sensory journey through glowing displays blended with the natural woodlands. Inspired by the native flora and fauna that thrive in the 10 acres of featured woodlands, this multi-sensory experience reveals the wonder of nature and wildlife through an immersive blend of the real environment and glowing displays. The experience is truly unlike anything else in Atlanta, with towering trees emerging from magical roots and interactive lights emanating oversized seeds. You won't want to miss it!
Garden Lights, Holiday Nights at Atlanta Botanical Garden
Through January 14th
The Atlanta Botanical Garden will be shimmering and sparkling with every color of the rainbow, giving the Garden's 30 acres a spectacular light show with over 1 million energy-efficient lights! Cozy up with a warm beverage while taking in the holiday glow glittering throughout the gardens – and be sure to commemorate the occasion with a stop at the Garden Gift Shop! Tour favorites such as Skylights Lounge in the Skyline Garden, the Ice Goddess, Tunnel of Light, Orchestral Orbs on the Great Lawn, Radiant Rainforest, Model Trains, and more!
Snap a Photo with Santa
Through December 24th
He's making a list, and he's checking it twice – Santa Claus is coming to town! We've put together a list where you can be sure to spot Jolly Ol' Saint Nick in 2023 and snap a picture with your family while finding some festive fun along the way. The holidays may rush by, but we've put our elves to work to help you find Santa no matter where you are in the city. So don't miss out on seeing The Big Man in Red as he makes all his stops through Christmas Eve!
Holiday Happenings at Ponce City Market
All Season Long!
Ponce City Market is transforming into your one-stop-shop through December to make your holiday season merry and bright! With ice skating, fireside treats, and more, these Holiday Happenings are sure to bring that bit of extra joy we all seem to need this time of year.
Zoo Atlanta Illuminights
Through January 14th
Experience the magic of Atlanta holiday lights with a mile-long stroll of luminous animals and lanterns around every corner! Whether you are looking to impress that special someone, enjoy a festive night out with the whole family, or simply a night out, Atlanta Zoo is your one-stop holiday tradition. The Zoo will feature vistas of illuminated wildlife, including new lanterns and experiences all season long! From luminous leopard to a towering fiery phoenix, you'll discover these wonders of nature and enjoy some merry photo-ops along the way.
Taste Your Way Through Inman Park
What better way to experience Atlanta than to delve into its hub of flavor? With over 70 incredible bars and restaurants within walking distance, Inman Park is home to Atlanta's best flavors and dining experiences. We've compiled a list to help you get the most out of your dining experience with our favorite stops along the way!
Explore Atlanta's Best Farmers' Markets!
NEWLY UPDATED FOR 2023
Grab those market bags and get ready to experience the city's local flavors at their very best with our 2023 Guide to Atlanta's Best Farmers Markets. Enjoy a leisurely Saturday morning sipping hot brewed coffee as you stroll through a rainbow of organic produce, listening to live music and exploring local art. Even the kids will enjoy the variety of family-friendly options, including activity centers, baby animals, picnics, and more!  Shopping local has never been easier, and Atlanta turns a weekly stop for food into a remarkable experience for everyone.