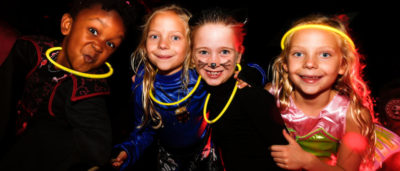 From the fancy to the frightful, things are getting spooky at the Atlanta History Center's Haunted Halloween!
Event Details
Friday | October 19th, 2018
6:30 p.m.  – 9:30 p.m.
Location
Atlanta History Center
130 West Paces Ferry Road NW
Atlanta, GA 30305
$20 General Admission | $15 Members | $10 Children
The Haunted Happenings each have a scare rating to help the spookiest – and the easily more frightened – decide where to go throughout the evening. Stroll through the foggy gardens and haunted historic gardens for fun kid-friendly activities and ghostly encounters!
Scare Factor Rating
All Ages
Most Ages
Parental Discretion
Scary! Tweens, Teens & Above
Very scary! Tweens, Teens & Above
HAUNTED HAPPENINGS
Food & Drinks
A cash bar will be serving beer, wine, and cocktails for purchase. 
Trick or Treat!
Ongoing until 9:30pm
Scare Factor: 1
Meet Rapunzel, Little Mermaid, a Panther Warrior, and Island Princess as well as other characters. Timed singalongs and fun hide and go seek games make this the perfect stop for those looking for treats and photo-ops!  Search through the exhibitions to find your favorite characters to trick or treat with!

Refrigerator Box Haunted House
Ongoing until 9:30pm
Scare Factor: 2
Perfect for little ones, this gentle haunted house encourages exploration through a maze of refrigerator boxes!  

Classic Fall Fun!
Ongoing until 9:30pm
Scare Factor: 1
Enjoy Halloween mummy races, witch ring toss, Halloween bowling, gross food guessing games, and an eyeball race! 

Georgia Reptile Society Show and Tell!
Ongoing until 8 pm
Scare Factor: 1-2
Come meet the GA Reptile Society's Animal Ambassadors! Our state reptile – the gopher tortoise – will be there along with pythons, bearded dragons, and many more. Educators will be on hand to answer questions and help you interact with these scaly critters!

Halloween Movie Classics 
Ongoing 
Scare Factor: 2
Grab a seat and enjoy watching classic Halloween movies that get everyone in the spirit of the holiday. Movies include: It's The Great Pumpkin, Charlie Brown @ 6:15 p.m. and 6:45 p.m. | Hocus Pocus @ 7:30 p.m.  

Music & Mischief
7:00 p.m. – 10:30 p.m. (21 and older after 9:30 p.m.) 
Scare Factor: 1
Revel and dance in the museum as the DJ plays tunes old and new for you all night. Join fellow partygoers after the trails close at 9:30 p.m. as the cast cuts loose to Halloween tracks. 

Wizarding World!
Ongoing until 9:30 pm
Scare Factor: 1
Welcome to a school of witchcraft and wizardry. Magical tutors lead potion classes and read wizarding tales! Get sorted into your magical house and meet exciting characters from your favorite wizard story!   

Zombie Escape!
Timed Experience [Trail closes at 9:30pm]
Scare Factor: 4
The dead have come alive and have taken over the Smith Farm!  Move quickly and stick together or you will join the legions of walking dead.

The Further
Ongoing until 9:30 pm
Scare Factor: 5
The Further is a world far beyond our own, yet it's all around us. It's a dark realm filled with the tortured souls of the dead. A place not meant for the living. Don't get trapped on this very dark insidious trail!

The Rise of Mike Meyers
Timed Experience [Trail closes at 9:30pm]
This iconic horror villain descends upon McElreath Hall and is searching for you.  Beware all who enter for nothing gets in the way of this psychopath!
More information on Haunted Halloween at Atlanta History Center.
Learn more about Buckhead, and see homes for sale.